Moving to Andorra: ADVANTAGES
Thanks to its economic model, the establishment of companies in the small country has been favored, since Andorra's tax advantages do not go unnoticed. This has also favored the exodus of foreigners to the country to settle permanently.
The advantages of working and living in Andorra are countless. In addition to its tax benefits, we can find beautiful natural environments. As well as one of the longest life expectancies in the world. Another factor to take into account is the Andorran educational system, which has three different options. For all this and for what we will develop below, many are looking for how to get to Andorra.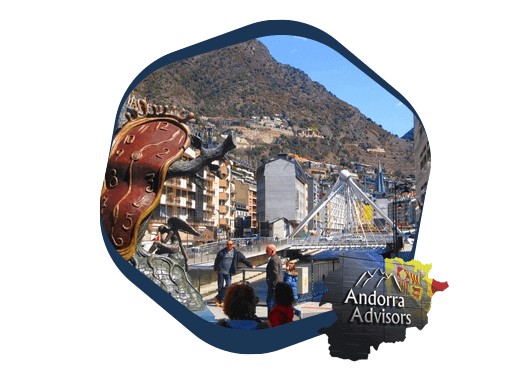 Tax advantages when residing in Andorra
Working and living in Andorra brings with it certain tax advantages. Which are not available in any other country. But to be a beneficiary of them you have to meet some requirements.
It is true that if you live or have residence in this country, you have certain advantages. But you will not be able to enjoy them until you change your fiscal domicile to Andorran territory. Which happens when working and living in Andorra for more than 183 days. As well as the corporate name of the company must be in the country. These are all fundamental factors.
Going to live in Andorra, either as a businessman or worker, translates into varied and positive tax advantages.
Some of them are:
The benefits obtained from the return on real estate capital when moving to Andorra, the first €3,000, are exempt. From €3001 only 10% is paid.
VAT is located at 4.5%. Recognized for being the lowest in the entire region. In addition, you can get to deduct the tax on purchases made in Spain.
Company taxes with a maximum value of 10%.
Moving to Andorra is equal to tax exemptions of up to 100% in personal income tax on the first €24,000 per year. Only 5% of the next €16,000 is paid. From €40,000 onwards 10%. In comparison to Spain where amounts above €60,000 are taxed at 47%.
The expenses of municipal taxes and government when moving to Andorra have an average of €800 per year.
The social contribution to companies is on average 15.5%.
Relocate to Andorra
People who relocate to Andorra and do not carry out any work activity will initially have a residence of two years thanks to the passive residence permit. This period can be extended for up to 2 more years, but a series of requirements must be met. On the other hand, people who work in Andorra on their own can obtain active residence in the country.
Whether you are an investor, or if you have a business, or are self-employed, Andorra Advisors by Augé Grup puts all its legal services and accounting and tax advice at your disposal so that you can enjoy all the advantages that the country offers.
A person who does not have Andorran nationality but who decides to live in Andorra, can carry out the necessary activities to manage their own assets.
What is it like to work in Andorra?
Working and living in Andorra has multiple advantages and points of view. One option to relocate to Andorra is as an employee. You can go with a seasonal or full-time job offer according to your needs or options.
Working in Andorra in winter seasons is a good option. Mainly because it lasts for six months. This added to the number of tourists who arrive in the country and generate many job options. So there is more demand. It is relatively easy to get a place in hotels, ski resorts and restaurants.
However, if you are an entrepreneur or want to start your business, you should know that you need a minimum capital of €3,000 with which to start operating. Pay a deposit of €15,000. A fundamental fact is that the maximum time it will take to create it is 2 months.
Is it expensive to live in Andorra?
This country offers an unrivaled accommodation offer, with a wide range of houses for rent and purchase and sale of real estate at perfectly competitive prices. Prices vary according to the chosen area, Andorra la Vella, which brings together most of the infrastructures and services, has higher prices than the smaller parishes. In the case of the rental price, the chosen area will be more noticeable, this is due to the holiday tourist profile of Andorra.
In the case of supplies, it has a lower price than neighboring countries. For example, the price of electricity is one of the lowest in the territory of Europe; and water supply is free in the country. In the case of the shopping basket, we can talk about savings if we compare it with neighboring countries; the country's low rates lead to savings when it comes to filling the shopping basket, which makes moving to Andorra very attractive.
The minimum interprofessional salary or SMI in Andorra is set at €1,083.33, higher than the average for European countries.
The real estate business in Andorra
Many of the people looking to work and live in Andorra have a unique opportunity. This is the real estate business. Whether you are looking for an active or passive residence. Since, in the short term, when moving to Andorra renting can be a good option. Although if your possibilities allow it, the best thing is to acquire a good property.
The purchase of real estate for people who want to live in Andorra has very favorable conditions. Due to the low costs in the transaction. Such as: notary, agency fees, local taxes, etc. Which are lower compared to regions of Spain or France.
For people interested in residing in Andorra, investing in this real estate sector is one of the most popular options. This mainly to opt for passive residence. Where they ask you to invest at least €350,000. In addition, with prices that will be on the rise in the coming years, it is a good time to invest. Each investment in property moves around €500,000-1,500,000.
In addition, a bank guarantee would be needed to demonstrate the existence of the necessary funds. Likewise, to work in Andorra and acquire a property, some procedures must be completed. From the signing of the reservation contract between buyer and seller. Activation of the process, payment of the balance and deposit of the certificate of sale.
Andorran nationality. How to obtain it?
Andorran nationality has different ways of acquiring it. It is one of the privileges that many want to access when moving to Andorra. The only negative factor is that dual citizenship is not accepted.
So if you are looking for Andorran nationality, you must bear in mind that you need to renounce the current one. The easiest way to acquire it, if you want to work in Andorra, is to spend 20 years of residence. With that requirement met, you can apply, but you must pass an exam. Which will reflect the knowledge in Catalan language, history and geography of the country.
After 20 years of residence are proven, they will have five years to pass the exams. At the same time present the papers of resignation of the current citizenship. After that you will be able to obtain Andorran nationality.
It can also be achieved through marriage to a citizen of this country. Although this will only be valid under certain conditions. Having at least three years of residence in the country.